CCWG is expanding!
Written by
CCWG
Monday, April 4, 2022 —
0 Comments
CCWG PRESS RELEASE
April 4, 2022
CCWG is expanding, our newest location is in :
CCWG s'agrandit, notre plus récent emplacement est à :
BRANDON, MANITOBA!
TOTAL FARM SUPPLY LTD.
1530 18th St. North, Brandon, MB R7C 1A5

204-727-3276 1-877-797-3276 FAX 204-726-8631
CCWG is pleased to announce the acquisition of Total Farm Supply Ltd in Brandon, MB effective April 4, 2022.
The business was established by John Hofer in 2000 and has an excellent reputation with a large agri business clientele. CCWG will now have branch locations at Lethbridge, AB and Brandon, MB for serving our customers in western Canada.
All staff have been retained to carry on the business.
We welcome Total Farm Supply Ltd, a division of Canadian Co-operative Wool Growers Limited.

Le CCWG est heureux d'annoncer l'acquisition de Total Farm Supply Ltd à Brandon, MB, à compter du 4 avril 2022.
L'entreprise a été créée par John Hofer en 2000 et a une excellente réputation auprès d'une importante clientèle agricole. CCWG aura désormais des succursales à Lethbridge, AB et Brandon, MB pour servir nos clients dans l'ouest du Canada.
Tout le personnel a été retenu pour poursuivre l'activité.
Nous souhaitons la bienvenue à Total Farm Supply Ltd, une division de Canadian Co-operative Wool Growers Limited.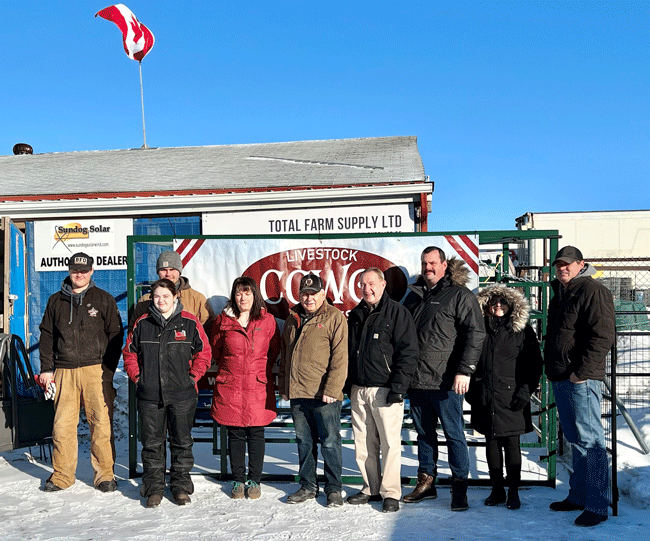 Left to right / De gauche à droite :
Brayden Byrne, Sarah Brown, Zane Gwyer, Thelma Hofer, John Hofer, Eric Bjergso, Morgan Moore, Lee-Anne Durant-McIntyre, Andrew Brydges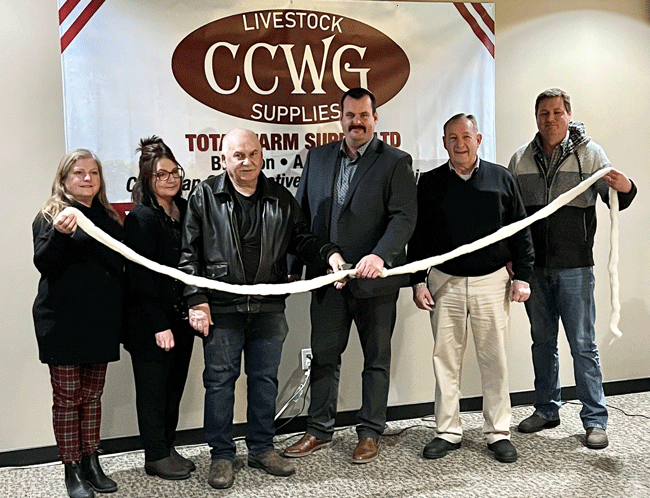 Official Wool Roving Cutting Ceremony
Left to right / De gauche à droite :
Lee-Anne Durant-McIntyre, National Director CCWG Livestock Supplies– Carleton Place, ON
Rebecca & John Hofer, Total Farm Supply Ltd owners - Brandon, MB
Morgan Moore, CCWG President, MB Director
Eric Bjergso, CCWG General Manager
Andrew Brydges, Assistant Manager CCWG Livestock Supplies– Carleton Place, ON